The New Acropolis Museum was opened to preserve and exhibit the findings of the Acropolis of Athens, displaying the history of Athens and the citadel's importance as a religious site in Ancient Athens.
The building
The New Acropolis Museum was erected just 300 meters from the Parthenon in the historical area of Makriyianni. The building designed by Bernard Tschumi is an extremely modern edifice and completely covers an archeological excavation.
The museum is made of steel, glass and cement, with a surface area of 14,000 square meters, the design uses the natural light as much as possible to highlight the 4,000 items exhibited.
The top floor of the museum is extremely special, since it was built with the same dimensions as the Parthenon and is shifted 23 degrees from the rest of the edifice. It is built in this way to look upon the Acropolis and visitors can contemplate it from above.
Exhibitions
The Acropolis Museum houses a large collection of relics excavated from the archaeological site of the Acropolis. The remains of the Ancient City are located all along the bottom of the museum, underneath the glass floor. The exhibits also display numerous sculptures and classical period artefacts from the various temples on the Acropolis and fragments of the religious buildings, like the Propylaea, Temple of Athena Nike and Erechtheion.
The Parthenon room, on the top floor of the museum, visitors will find items of greater value, once belonging to the Parthenon. Some of the highlights of the museum include the Caryatids, beautifully sculpted columns in the shape of a female figure.
Athens' most important museum
The Acropolis Museum is one of the city's most-visited museums, featuring numerous treasures of the sacred mountain. If you would like to take a guided tour of the museum, click here.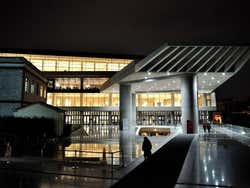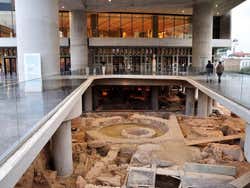 Schedule
1 November - 31 March 
Monday - Thursday: 9am - 5pm 
Friday: 9am - 10pm
Saturday/Sunday: 9am - 8pm 
1 April - 31 October
Monday: 8am - 4pm
Tuesday, Wednesday, Thursday: 8am - 8pm
Friday: 8am - 10pm 
Saturday, Sunday: 8am - 8pm 
Price
Adults: € 5 (US$ 5.40) (high season € 10 (US$ 10.80))
Discounted: € 3 (US$ 3.20) (high season € 5 (US$ 5.40))
City Tour and Acropolis Museum € 74 (US$ 79.60)
Transport
Metro: Acropolis, line 2. 
Bus: Makryianni, lines 24, 40, 57, 103, 106, 108, 111, 126, 134, 135, 136, 137, 155, 206, 208, 227, 230, 237, 790, 856, Α2, Α3, Α4, Β2, Β3, Β4, Ε2 and Ε22.
Trolley bus: Makryianni, lines 1, 5 and 15.