Paul and Alexandra Kanellopoulos bequeathed their surprising private collection of antiquities to the Greek state and founded the Kanellopoulos Museum in 1976. It is one of the most important private collections in Athens.
Opened to the public in 1976, Kanellopoulos Museum offers an interesting view of how Greek art has evolved throughout the centuries thanks to a significant collection of archaeological art pieces from various periods.
The stunning collection is housed in a nineteenth-century neoclassical mansion, which makes the visit even more enjoyable. Another perk is that the museum is not often packed; therefore, you can admire each artifact in your own time.
Exhibits
The collection has over 6,000 items ranging from the prehistoric period to the nineteenth century. The museum's highlights include Byzantine art pieces.
The exhibitions are placed chronologically and display clay and stone vessels, jewelry, weapons from ancient civilizations, bronze items, coins, funerary masks, and figurines.
A varied and complete collection
Kanellopoulos Museum features a valuable and varied antiquity collection by which visitors will be able to discover how Greek art has progressed from 3000-1200 BC to modern times. If you're interested in archaeology, this museum is a must.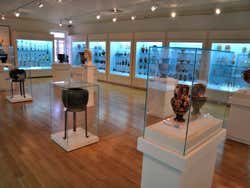 Schedule
Monday- Sunday: 9 am to 4 pm
Tuesday: closed
Price
Adults: € 3 (US$ 3.20)
Reduced ticked: € 2 (US$ 2.10)
Transport
Metro: Monastiraki, lines 1 and 3
Bus: Acrópolis, line 230