The Panathenaic Stadium was made entirely of white marble in 144 AD. In the nineteenth century, it was dug up and rebuilt. It hosted the first contemporary Olympics in 1896.
A long-lasting stadium
The Panathenaic Stadium is one of the most visited attractions in Athens. It is currently a multi-function stadium that was initially built as a race track in 330 BC for the Panathenaic Games.
Dedicated to Athena, goddess of wisdom and war, the Panathenaic Games was a popular event that took place once every four years, in which the inhabitants of Athens organized a religious festival with a sports competition and other cultural events. The Athenians also celebrated the Lesser Panathenaic festival once a year which were shorter and included less games and ceremonies. The Games counted with equestrian, athletics, combat competitions, as well as chariot racing and music and dance contests.  
In 144 AD, the Roman senator Herodes Atticus commissioned the stadium to be completely rebuilt in white marble.
During many centuries the Panathenaic Stadium was practically abandoned, until the remains of the venue were dug out during the nineteenth century and restored to host the Olympic Games in 1896.
The arena was completely rebuilt according to its original plan and now houses various competitions and is open to the public.
A legendary stadium
The Panathenaic Stadium, also known as Kallimarmaro, is one of the most popular visits in the Greek capital. Visitors can walk along the marble stands where the Athenians once cheered the sportsmen on centuries ago. The running track is also open, and tourists can get a selfie up on the podium next to the Olympic rings.
The entrance fee includes an English audio guide, which gives interesting information about the legendary landmark.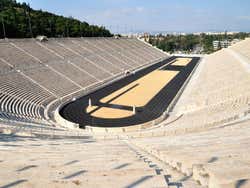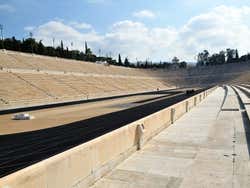 Schedule
March - October: every day between 8am and 7pm. 
November - February: every day between 8am and 5pm. 
Price
Adults: € 10 (US$ 10.80)
Students: € 5 (US$ 5.40)
Children under 6: Free
Transport
Bus: 2, 4, 10, 11, 90, 209 and 550.
Metro: Acropolis, line 2; Syntagma, lines 2 and 3; Evangelismos, line 3.