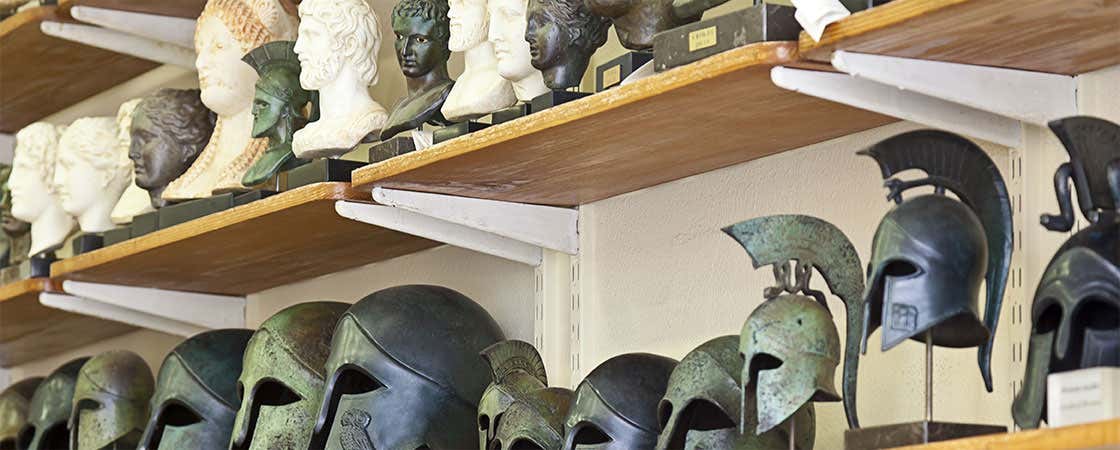 Discover the best high streets, markets, most-famous stores in Athens and learn what the best souvenirs are, including jewelry, traditional crafts and typical culinary products. 
Like in numerous cities, haggling is extremely popular in Athens. Most souvenir shops rise the prices of their souvenirs because they expect tourists to try and lower them.
Typical souvenirs from Athens
As well as the traditional postcards of the Acropolis or the little Parthenon sculptures, there are numerous articles that visitors will find make great gifts:
Gold or silver jewelry: Gold and silver Greek handmade jewelry is famous worldwide. Visitors will find reproductions of ancient Greek ornaments, contemporary pieces or traditional Greek designs in the capital.
Archaeological replicas: These are probably the most popular souvenirs from Greece. If the imitation is good quality, it should have a certificate and a small silver-colored seal. There are reproductions of all types of items: jewelry, vases, helmets and other items made of bronze.
Gourmet products: The most sought after foods in Greece include olive oil, honey, spices, olives, wine and liquors (especially Ouzo, an appetizer that tastes slightly of anise).
Main shopping areas
Kolonaki: Located at the feet of Mount Lycabettus, it is one of the best areas to go shopping in Athens, especially if you're looking for high-end stores. Its streets are flanked with beautiful boutiques owned by famous Greek designers.
Monastiraki: This neighborhood is famous for its flea markets and average priced shops specialized in clothes, second-hand books, CD's or watches. On Sundays, the streets of Monastiraki welcome a splendid open-air market, which is well-worth visiting.
Plaka: It is one of the most popular areas in the capital city, and is packed with souvenir shops that sell objects made of copper and clay, as well as all types of ornaments and typical Greek food.
Syntagma Square and surroundings: Some of the streets that lead to Syntagma Square like Ermou Streeet, Stadiou Street and Panepistimious Street offer hundreds of international clothing brands and more specialized stores.
Central Market: Athens Central Market specializes in all types of foods like cured meat, vegetables, fruit, herbs and spices, fish. If you go, we recommend not to wear your favorite shoes, since it can get a bit dirty. It is extremely curious to see how the Greek merchants try to sell their goods, including roast chicken to tourists.