National Garden in Athens
The National Garden of Athens, located behind the Parliament and Syntagma Square, is a green oasis in the heart of the city.
The National Garden of Athens is a large green-space of over 160.000 square meters adorned with over 500 types of plants and trees from all over the world.
Former Royal Gardens
The gardens were designed in 1839 by order of Queen Amalia of the Greeks, but were not open to the public until 1923, when they were renamed "National Garden".
The designer of the gardens, Friedrich Schimdt, traveled all over the world in search of the most beautiful, exotic and unique flora. This task was also granted to the Hellenic Navy.
Most interesting areas
The park is a picturesque green lung filled with flowers, shrubs, ancient trees and green meadows where to relax during the warm summer days. The National Garden's most famous sights include a small pond, which is home to numerous water birds, a botanical garden, the remains of historical monuments and even a small zoo.
The National Garden is a must, especially if you are traveling with small children, as it is packed with things to see and do.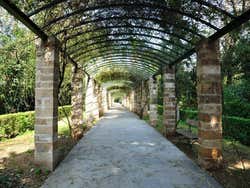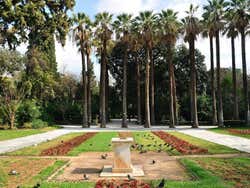 Schedule
From sunrise till sunset. 
Transport
Metro: Syntagma, lines 2 and 3.