Mount Lycabettus (or Lykavittos) stands 278 meters (over 900 ft) tall and is the highest peak in Athens with superb views of the capital. It is situated in the Kolonaki neighborhood.
History
Greek mythology tells the story that the goddess Athena yearned her temple on the Acropolis to be closer to the sky, so she seized a large rock to place on top of the Acropolis, and while she was carrying it, she received a news that startled her and dropped the 278 meter-rock creating Mount Lycabettus.
Lycabettus probably means "Mountain of Wolves" in ancient Greek, as it is believed that the natural elevation was once inhabited by wolves.
During the Classical period, the hill was covered by a dense vegetation and the top was crowned by a temple in honor of the Greek god Zeus. The hill was deserted after the Turkish occupation.
Between 1880 and 1915, the area was re-planted and is now a hill full of native trees and plants.
Present day
The views of Athens, and particularly the Acropolis, are stunning from the very top of Lycabettus hill. The small Orthodox chapel of St. George, a charming white traditional Greek temple, sits at the top of the Lycabettus.
There are various ways to access this tourist attraction. You can either walk up a winding road surrounded by pine trees, by car (not to the top), or on the funicular.
We suggest walking up at sunset to gaze down at Athens and the beautifully lit sky. The views of the city at night are also worthwhile.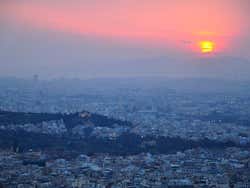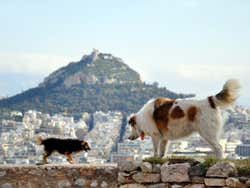 Transport
You can either walk up or take the Lycabettus Funicular from Aristippou Street or Ploutarchou Street.