Although Piraeus is 10km away from the center of Athens, in the region of Attica, it has been considered the port of Athens since Ancient Greece. Learn about its various areas.
Piraeus, also written Peiraieus, is only eight kilometers from central Athens and to this day is considered the port city of the Greek capital. Currently, the area has a population of nearly 200,000 people.
Port of Piraeus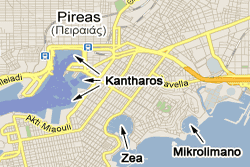 Location of the three harbors
Piraeus has always played a crucial role for Athens, considered the city's main port since the eighth century BC through the fifth and fourth centuries BC and up to the emergence of the Roman Empire. Its three natural bays were used for commercial and military purposes, housing the once powerful Athenian armada.
Presently, Piraeus is the most important port in Greece, with around 20 million passengers per year. The port also connects the peninsula with most Greek islands, and all cruise ships touring the Aegean Sea stop at Piraeus for at least one day.
Piraeus is made up of three separate harbors:
Kantharos
Kantharos is Piraeus' most important and greatest wharf. All large ships, including cruise ships, cargo ships and big fishing vessels dock in Kantharos. This harbor is not interesting for tourists. 
Zea
Also known as Pasalimani, Zea is the leisure harbor, where the most luxurious and expensive yachts moor. It has a pleasing seafront filled with bars, stores, restaurants and terraces. It is one of the bustling areas of Athens, specially during the summer.
The Archaeological Museum of Piraeus and the Theatre of Zea are two top attractions worth visiting in the area.
Munichia
Munichia is a tiny, traditional and charming harbor with brightly colored fishing boats and tavernas that specialize in fresh fish and seafood.
Munichia is our favorite part of Piraeus port.
How to get to Piraeus?
Unless you rent a car or take a taxi, the best way to get to Piraeus is on the subway. Take the metro to the stop Faliro, then take Akti Dilaveri street until you get to the waterfront, and then turn right.
Munichia is the first bay you will reach, and Zea is the following.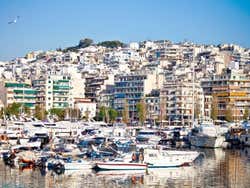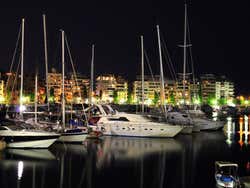 Transport
Kantharos
Metro: Peiraias, line 1 (green).
Train: Peloponnisou Peiraias.
Zea and Munichia
Metro: Faliro, line 1 (green).