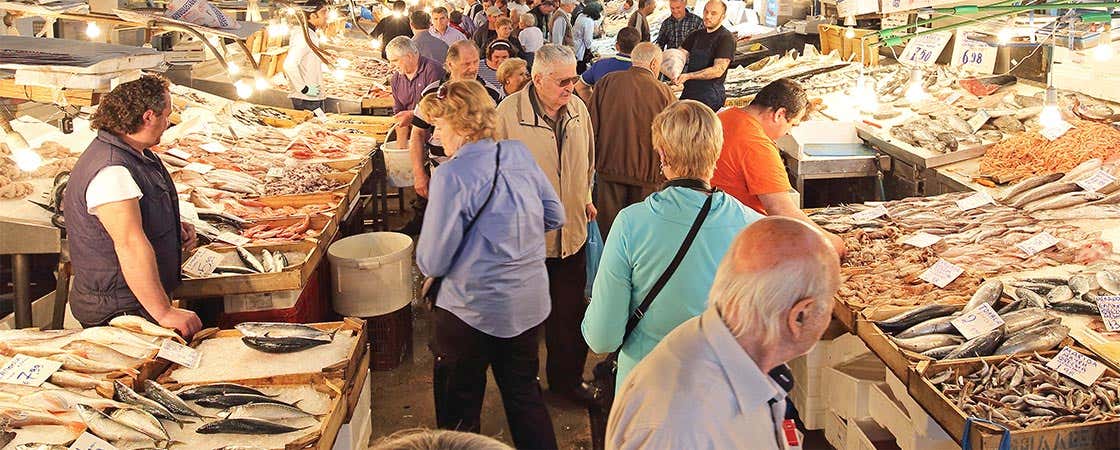 Best places to eat in Athens
Greek food has always stood out in the international gastronomic scene due to the unique blends of flavors used in the numerous Greek dishes.  
Greek gastronomic tradition is over 4,000 years old and has been influenced by its neighboring countries (both east and west) throughout the centuries.
Traditional Greek cuisine stands out above all for the use of high-quality ingredients characteristic of the Mediterranean diet, in addition to the proper use of spices and aromatic herbs. The protagonist of most of the dishes is the famous Greek olive oil.
Traditional dishes
We recommend you take a look at some of the most traditional Greek dishes, to get an idea of the varied cuisine that awaits you there: 
Tzatziki: a mix of Greek yoghurt, cucumber, garlic and mint.
Spanakopita: a pie stuffed with spinach and feta cheese.
Tiropita: a pie stuffed with various types of cheese and an egg mixture.
Spanakotiropita: a small empanada with feta cheese and spinach.
Saganaki: fried cheese.
Dolmades: vine leaves stuffed with meat, rice or vegetables.
Horiatiki salata: Greek salad with tomato, black olives, feta cheese, cucumber and olive oil.
Fasolada: soup usually eaten in winter with white beans, olive oil, tomatoes, carrots and celery.
Fakes: lentil soup.
Psarosoupa: fish soup.
Patsas: tripe soup.
Pikilia: assortment of Greek dips including olives, feta cheese and sauces and Greek bread.
Meze platter: mix of small dishes that normally accompany Greek ouzo or any other alcoholic drinks.
Souvlaki: chicken, fish, lamb, prawn or pork skewers.
Keftedes: typical Greek meatballs.
Melitzanosalata: aubergine dip.
Fava: split pea soup.
Loukoumi: Turkish delight.
Loukoumades: Greek honey balls with cinnamon.
Metaxa: alcoholic drink of brandy and wine.
Ouzo: sweet-tasting liquor that tastes of licorice. It usually has between 37 and 50 percent alcohol.  
Koulouri: twisted kind of bread.
Moussaka and gyros
We've decided to dedicate a specific section to two of the country's most famous recipes: moussaka and gyros.
Moussaka is a type of lasagna with spicy lamb mince, tomatoes, eggplants and a creamy sauce. There are also various versions with potato and zucchini. Like the Italian lasagna, this dish is quite filling and since it is served piping hot, it is the perfect way to warm up on a cold winter night.
Gyros is another extremely popular dish in Greece consisting of pitta bread stuffed with meat (either chicken, pork or lamb) made on a vertical rotisserie. It is accompanied by tomato, lettuce, onion and different sauces. Gyros literally means "to turn", since the meat is cooked on a vertical sear that rotates very slowly, just like the modern kebabs.
Available in most Greek restaurants and fast food stands, gyros is a specialty that is prized both by locals and travelers.
Prices
Restaurants in Athens are relatively inexpensive, a bit like the prices you would find in Madrid or Barcelona. A main course costs between € 8 (US$ 8.60) and € 12 (US$ 12.90) and are normally very hearty.
If you're traveling around Greece on a tight budget, you can order gyros at any fast-food stand for approximately € 2 (US$ 2.20) or a delicious souvlaki in the city's numerous taverns.
Unlike other European countries, waiters in Athens will usually serve you water as soon as you sit down even if you haven't asked for it. Even though the water is not very good, it is free, so you can save on drinks in Athens.
What time do locals eat in Athens?
The Greek meal times in Athens are similar to those in Spain. Lunch is served between 1:30pm and 4pm and dinner between 9:30pm and 11pm. Nevertheless, since Athens is quite a cosmopolitan city, restaurants open earlier for foreigners, so you can eat earlier without any problem. Normally, waiters stand outside their restaurants trying to entice you to enter into their establishments at all hours.
Best areas
Although most neighborhoods in Athens offer numerous and varied restaurants, the most popular areas are Plaka and Monastiraki.
One of our favorite streets packed with traditional restaurants and charming terraces is Adrianou Street, near the Ancient Agora.
Other good streets are: Mitropoleos Street and Kidathineon Street.