Museum of Greek Folk Musical Instruments
Housed in an elegant nineteenth century mansion erected in 1840, the Museum of Greek Folk Musical Instruments displays nearly 1,200 unusual instruments. The various exhibitions demonstrate how Greek music has advanced these past 5,000 years.  
Exhibits
The relatively large collection is displayed throughout the museum's three floors. The instruments are grouped by family (brass, strings, woodwind, percussion, keyboard).
The exhibitions display numerous tambourines, percussions made of dried mud, bagpipes, lutes and violins. Some of them are extremely curious, like the Greek shepherds' flutes made of goatskin, cane flutes covered in snakeskin and flutes made with the eggs of birds of prey. Visitors will also marvel at the box lyres and baglamas, a traditional Greek string instrument made of wood or tortoise shell. 
While you walk around the museum admiring the various showcases, you can also listen to short pieces of each instrument with headphones.
A small and unusual museum
The Museum of Greek Folk Musical Instruments is not one of the most-visited museums in Athens, but if you have enough time, we highly recommend it. You will find it very entertaining to discover some of the country's most bizarre instruments. Moreover, the museum is free and not very big.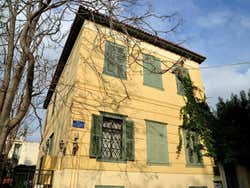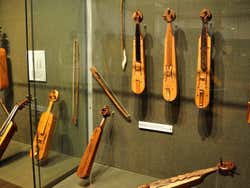 Schedule
Monday, Wednesday, Thursday, Friday, Saturday and Sunday: from 8:30 am to 3:30 pm.
Tuesday: closed.
Transport
Metro: Monastiraki, lines 1 and 3