Commissioned by Emperor Hadrian, Hadrian's Library was once an imposing rectangular building established as a library in 132 AD. It had several reading rooms, conference halls and an inner courtyard.
Situated to the north of the Athenian Acropolis, the Library of Hadrian was also known as the "One Hundred Column Library".
History
The historic landmark was very spacious, measuring 122 by 80 meters. It was surrounded by a gallery decorated with one hundred columns. In the courtyard there was a building which is believed to have been an Early Christian church built in the fifth century AD. Centuries later, it was replaced during the eighth century and then in the eleventh century.
The Library was destroyed when the Heruli invaded Athens in AD 267, but was later restored by the prefect Herculius.
The Library fell into disuse and was forgotten until 1885, when the building was excavated.  Astonishing Corinthian columns standing 8-meters-tall and limestone blocks were uncovered, as well as the remains of three Byzantine churches.
Present day
Although Hadrian's Library is not very well preserved, you can easily get an idea of how grandiose the building was when it was raised and the amount of papyrus that were donated to the Library.
The Ancient Athens combined ticket which is for the Acropolis and its landmarks, also includes the Library of Hadrian. Even though not much of the building survives, the visit is still worthwhile.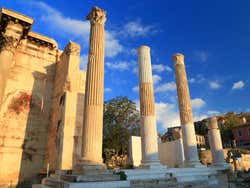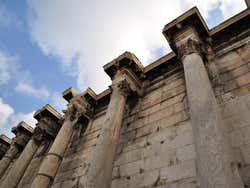 Schedule
Every day: 8 am - 8 pm
Price
Adults: € 6 (US$ 6.60)
Students: € 3 (US$ 3.30)
Combined adult ticket: € 30 (US$ 33)
Combined student ticket: € 15 (US$ 16.50)
Includes: Acropolis, Ancient Agora, Roman Agora, Theatre of Dionysus, Kerameikos, Temple of Olympian Zeus, Hadrian's Library and Aristotelian Lyceum.
Transport
Metro: Monastiraki, lines 1 and 3.