Byzantine and Christian Museum
The Byzantine and Christian Museum, founded in 1914, features a small art collection specialized in religious artefacts, dating from the fourth to the twentieth century.  
The gallery is housed in a beautiful Byzantine-style villa constructed in 1848, which used to belong to a French Dame.
Exhibits
The museum's permanent collection is divided into three main sections; the first part is specialized in art dating from Antiquity to Byzantine period; the second section features Byzantine works of art and the third displays items dating from Byzantine to the Modern period.
The gallery houses approximately 25,000 items, including religious artefacts, mosaics, sculptures, paintings and embroidery work from the vast Byzantine Empire.
Two of the museum's highlights are: a reconstruction of a fifth century Christin Basilica and a ninth century Byzantine church.
Religious artefacts and more
Renovated in 2004, the Byzantine and Christian Museum displays one of the most impressive Byzantine Art collections in the world. It features extremely interesting exhibitions, for example one that explains how the Parthenon was transformed into a Christian Church during a certain period.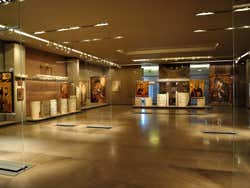 Schedule
Tuesday - Sunday: 9am to 4pm.
Mondays: closed.
Price
Adults: € 4 (US$ 3.90)
Seniors over 65: € 2 (US$ 1.90)
Students and under 19s: free entrance. 
Transport
Metro: Evangelismos, line 3.
Bus: Rigillis, lines 54, 200, 203, 204, 220, 221, 224, 235, 400, 408, 419, 601, 603, 608, 622, 732, 815,
Α5, Γ5, Ε6, Ε7, Ε14 and Χ14; Evangelismos, line 250; Ethniko Idryma Ereunon, lines 450 and 550; Loukianou, lines 22 and 60.
Trolleybus: Rigillis, lines 3, 7, 8 and 13; Ethniko Idryma Ereunon, line 10.