The Odeon of Herodes Atticus is a breathtaking theatre originally built in 161 AD for music concerts. It was restored in 1950.
Situated next to the Theatre of Dionysus, at the foot of the Athenian Acropolis, the Odeon of Herodes Atticus was erected under the supervision of the Roman senator Herodes Atticus.
An imposing construction
The Odeon of Herodes Atticus was first built with walls sheathed in marble with a seating capacity of over 5,000 spectators. The benches were also made of white marble and had mosaic floors. The ancient Roman style venue had a beautiful cedar roof, which was probably the most surprising aspect of the concert hall, now non-existing.
The theatre had a 35-meter-wide semi-circular orchestra and the stage façade had various windows to place statues in them. Behind the front view of the venue is a beautiful view of Athens.
The Odeon remained in use until 267 AD, when the Herules invaded the city.
Present day
The Odeon of Herodes Atticus was renovated in 1950. Since then, important events have been held here like the Miss Universe Pageant in 1973. The renowned Greek singer Nana Mouskouri also sang on this stage in 1984 and 2008. Presently, the building is still one of the most beautiful concert halls in Athens.
The historic landmark is not open to the public, except when it hosts a music concert. If you do not want to attend any of its planned concerts, you can get a good view of the whole venue from the Acropolis.
Since it was practically completely renovated, the Odeon of Herodes Atticus stands at it originally did in 161 AD. The only difference is that it is not covered by a wooden roof.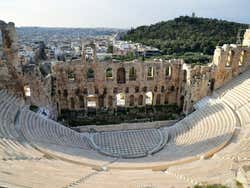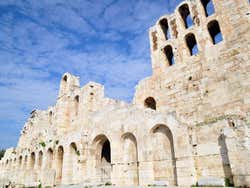 Transport
Metro: Akropoli, line 2.